If you are thinking about starting a blog, you should have already done the checklist – there are many things to do such as:
Create Your Own Blog or hire A Web Developer

Create or hire someone for the Blog logo,

Name and domain you are going to use …
And the list does not stop there (and I believe it will never stop) because it seems that being a blogger is being self-taught and seeking endless knowledge … but that's where I want to go!
I see lots of questions from girls who want to be bloggers – and a professional blogger, asking questions like "Do you need to be rich to be a blogger?" Or "Do you need expensive branded products to be a blogger?"
I realize that there are no doubts without basics, since fashion bloggers have'd a very great prominence in recent years, but there is not only the fashion niche to be a professional blogger, in fact there are numerous niches – and even the fashionable ones don't have to be expensive products, like the ones you see there – It is worth remembering that Bianca Andrade – in makeup, has even started to succeed by teaching beautiful makeup with cheap products. However she has knowledge 😉
In this post I will write the first steps to being a blogger professional – steps ahead before choosing the domain and hosting. Steps that I ignored myself in the construction of my Blog and later I realized that I should have taken into consideration, because they were fundamental for my Blog's growing.
To be a professional blogger, you need before you have your domain and Blog ready, take what is the first step: choose your niche.
Step 1: Define your niche:

Niche: Restricted portion of the market, segment that usually provides new business opportunities, target audience.
And there's more! Your niche can not be what makes your eyes shine or what you think gives more evidence as a blogger, but a subject you master and love! Blog requires dedication, much study and patience if it isn't like this, soon will be likely that your Blog won't be longer. You won't feel motivated to write about it, and procrastination arrives.
Some niches for Blog:
DiY Do It Yourself
Make up
Fashion
Trip
Business
Cheers
Lose weight
Technology
Games
Relationship
Beauty
Marriage
food
Plants
Decoration
Revenue
Psychology
Spirituality

Step 2: Knowledge:
Knowing what you speak, and studying more and more, is indispensable for who is a professional blogger.
Who produces content has to be aware that the blog will require a lot of knowledge and studies    looking like never ends, if you dream of being a professional blogger is not to start a blog, paying domain and hosting and start writing about any subject,this will hardly bring loyal readers, so choosing the niche and investing in knowledge is key to a professional blogger. I would say that it is recommended that you study a bit about Digital Marketing before starting the Blog and doing a Market Study to get more guidance in your business.
Do not you have the slightest idea about doing market research? I also did not and I suggest this free Sebrae course, it's very good and I did:
– Learn to undertake (Sebrae Course).
Another course I did and suggest to do is Jessica Belcost, it is very valid for anyone who has no idea of ​​what it's like to be a blogger, and has never had contact in the area:
– Professional blogging course The course covers very interesting topics, such as how much to charge for publi for example.
These are just some courses that I point out, to be a professional blogger, it will be necessary to spend a lot of time studying, taking courses, watching tutorials … The digital area is very dynamic and is constantly changing, so there will always be the need to stay updated if you want to start with your Blog.
Step 3: Professionalism
Characteristic procedure of good professionals (seriousness, competence, responsibility, etc.)
Be prepared to be a professional blogger before you even start your Blog. This implies thinking from the first moment in your Blog with professionalism, investing in Paid Hosting and Domain (and it has very cheap market today), you may think that it is more advantageous to have free, but this is recommended for people who wants the Blog just like hobby. A professional blog right from the start will bring you more security because out of nowhere your content may be lost after all the hosting does not belong to you. 
One hosting company that I point out is Hostinger with well-considered plans, and their promotion has plans from hosting for $ 3.99 per month and domain $ 2.90 per month. Click on the image to know the plans.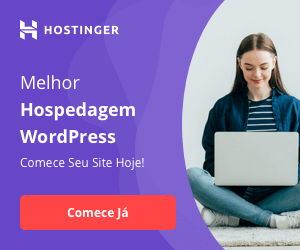 Think of your Blog as a Business from the first moment, and always be professional, since when companies contact you and everything you do in the Blog, such as layout, organization, content update, work delivery, etc.